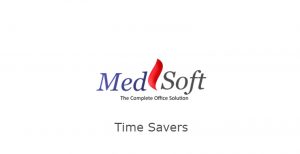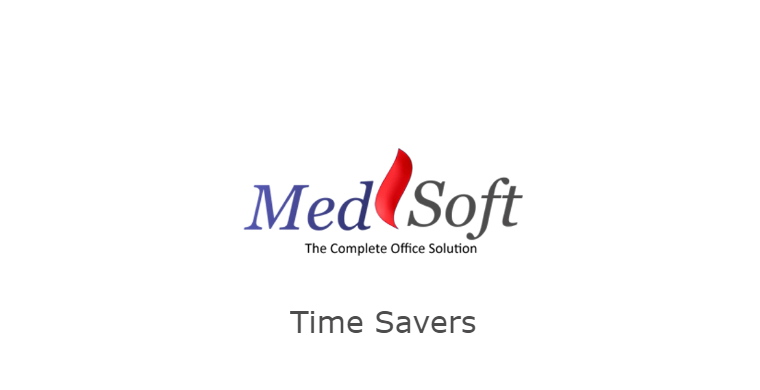 Auto-Fax Configuration
MedSoft offers an Auto-Faxing feature for therapist documentation. Each clinic has the option to turn this feature ON/OFF on the Admin – Configuration tab in MedSoft. Please note that only Admin users have access to the System Configuration tab.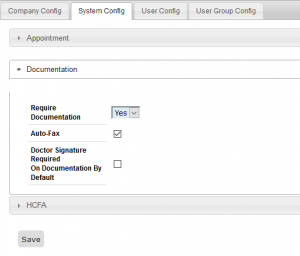 On the System Config tab, Admin users have three available options:
Require Documentation: YES/NO – The clinic can require documentation to be completed or not for all visits. If "Yes" is selected, all appointments, once checked in, will generate Pending Documentation on the Documentation tab in the Patient Center. The only exception to this will be for patients with the "Bypass Documentation" box checked in the Patient Center. The "Bypass Documentation" flag in the Patient Center will override this system-wide setting so that an individual patient will not have documentation generated.
Auto-fax: Check/Uncheck – If this box is checked, all exams will automatically be faxed to the fax number of the Treating Physician on file for the Patient. Please note that, in order for the fax to automatically generate:

The Patient must have a Treating Physician assigned on the Medical Management tab in the Patient Center
The Treating Physician must have an accurate fax number listed in his/her Vendor file (located under Admin – Vendors)

Doctor Signature Required On Documentation By Default: Check/Uncheck – If this box is checked, the "Doctor Signature Required" box on the "Plan" tab of all exams will be checked by default. If this box is not checked, the box will not be checked by default on exams. Regardless of whether it is checked by default, PTs will have the option to check or uncheck the box on each individual exam as they complete it. *Checking this box on an exam will generate a doctor signature page on the completed exam that is sent to the Treating Physician.
Auto-Fax Execution
If the clinic's System Config tab is set to have Auto-Faxing ON, all exams will be automatically sent to the Fax Queue upon completion. The Fax Queue is available for all clinics to view under the "Resources" link on the Menu Navigation Bar.
When Auto-Faxing is ON, faxing will occur as outlined on the Fax Queue Best Practices handout.