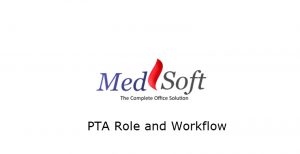 MedSoft's PTA Role
MedSoft recently released the Physical Therapy Assistant (PTA) user role. This role is specifically for employees with the PTA designation at your clinic.
If your clinic utilizes PTAs, you are likely already familiar with the distinctions of the PTA from a Physical Therapist, and the billing restrictions in place for PTAs.
PTA Access
MedSoft has specifically designed the PTA role to work within these guidelines. PTA users have basic Employee access (refer to our post about User Access for access details). The PTA role, however, also generates a specific documentation workflow that sends all Daily Notes to a selected Physical Therapist for approval. Once approved by the PT, all Daily Notes will have a co-signature by both the PTA and PT, and will be billed out under the approving PT's NPI.
PTA Calendar
If desired, all PTAs can be set up as their own Calendar Resource within MedSoft. This allows any user to schedule appointments on the PTA's calendar. Additionally, this gives the PTA the ability to view his/her calendar in the Mobile App. In order to enhance reporting in regards to patients the PTA has worked with, the PTA can also be designated in the "Other Practitioner" box on the Patient Center Detail page.
PTA Signature
To ensure that your PTA's signature is attached on all documentation he/she submits, please follow the PTA User Account Creation Guide.
PTA Documentation
MedSoft users can assign any visit to a PTA through either the Appointment Calendar or within the Patient Center. At the Appointment calendar, users can right click on an appointment and select "Assign PTA." This will populate a list of available PTAs to select from. After adding a PTA, users will see an alert confirming the PTA was added successfully.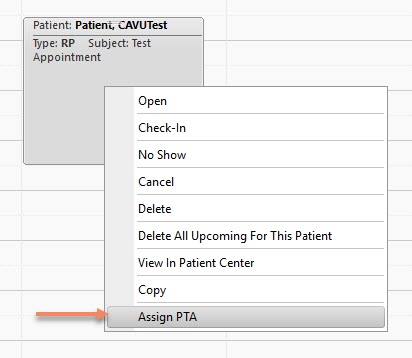 If the PTA was not assigned on the Appointment Calendar, or your clinic would prefer a different workflow, the PTA can be assigned in the Pending Documentation window.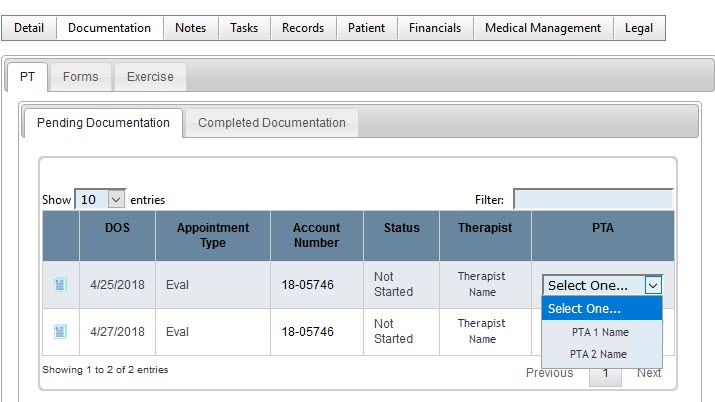 Once  PTA has been assigned to a visit, that visit date will show up for the PTA on the PTA Incomplete Documentation widget. Additionally, the PTA name will show in the PTA column on the Therapist Incomplete Documentation widget so that all parties are aware that the PTA is responsible for the first step of documentation.